Microsoft Office is surely the most widely used and indispensable software suite for computer users around the world. Whether you're an individual user, a freelancer, or a business, it's important to understand the differences between Microsoft 365 and Office 2021 to get the most out of Microsoft's Office application suites and make an informed choice.
Choosing the version of the package Microsoft Office is very important and you must take into account first of all the need to use the applications in each suite, number of users and devices on which you use the applications and of course, the costs.
The differences between Microsoft 365 and Office 2021 (Options and Pricing)
It's important to consider your individual needs and preferences when deciding which of these two Office suites is the best fit for you or your business.
Subscriptions and prices Microsoft Office
If you are a user who needs Microsoft Office for applications only Word, Excel, PowerPoint, then it is very important to consider the price differences between the two versions of the suite Microsoft Office.
Microsoft 365 is a monthly or yearly subscription-based service that ensures you always have the latest and moderne productivity tools from Microsoft. The suite comes in two subscription versions: Microsoft 365 Family, priced at $99.99 / year (or $9.99 / month) and Microsoft 365 Personal, for which the subscription costs $69.99 / year ($6.99 / month).
On the other side. Microsoft Office 2021 is paid once, with no monthly subscription or other subsequent costs. The (official) price for the Office Home & Student 2021 license is $149.99, but there are many online stores that sell licenses for much lower prices for this suite.
Options and applications available in versions Microsoft Office
In addition to the prices and the method of purchase, the differences between Microsoft 365 and Office 2021 are significant in terms of applications, number of users and devices, updates and services available.
Related: How to update Microsoft 365 and Office 2021 on Windows 11
Microsoft 365 includes additional services such as storage space in cloud (OneDrive), calls and online conferences (Microsoft Teams) and integration with other Microsoft services. These are unavailable in Office 2021, which focuses exclusively on apps desktop standard, such as Word, Excel, PowerPoint.
subscription Microsoft 365 Family provides 6TB storage space in the environment OneDrive – Cloud, divided for 6 users who can use the applications in the suite. Every user can install and use Microsoft 365 on 5 devices, simultaneously.
Microsoft 365 enables real-time collaboration with documents and files through cloud-connected features. Users can work together on the same document simultaneously and see changes in real time. Office 2021 lacks these real-time collaboration features and requires you to manually send files to share and edit them collectively. So for team productivity, Microsoft 365 is the best solution. In addition to collaboration options, Microsoft 365 also provides access to applications Microsoft Teams and Skype.
As far as the customer is concerned Outlook, this is only available for Microsoft 365. But there are robust alternatives such as: Windows Mail or Mozilla Thunderbird.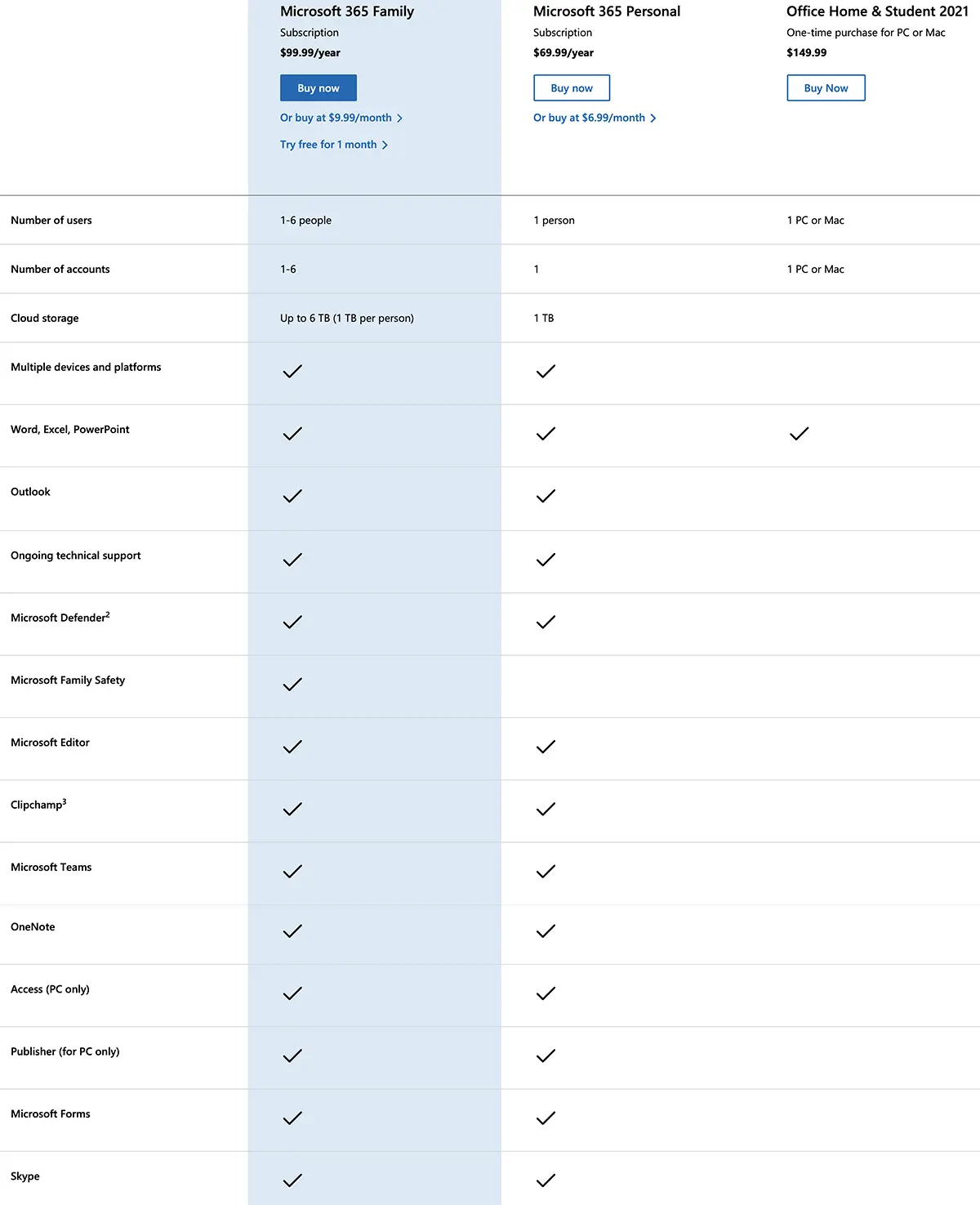 In conclusion, before you choose which version of the suite Microsoft Office you want to buy, you need to consider the usability of the applications in the suite. Number and types of devices on which you want to use the applications, the need for the OneDrive data storage service, the OneNote application (only available for Microsoft 365), collaboration needs with other users, updates and pricing.