If you are a fan of artificial intelligence (AI), you can use Windows Copilot for Windows 11, installing Windows Build 23493 or a newer version on Dev Channel.
After Microsoft integrated Copilot în Microsoft 365 and in other applications, it's the operating system's turn Windows 11 to receive this announced feature as early as the end of May 2023. GPT-4 directly integrated with the operating system Windows 11.
How do you use Windows Copilot for Windows 11
To use Windows Copilot, users must have Windows Build 23493 or a newer version installed via Dev Channel and the version Microsoft Edge 115.0.1901.150 or a newer version.
Access to this feature is very easy from the taskbar by accessing the new button Windows Copilot or by the key combination "Win + C". Windows Copilot will use the same Microsoft (MSA) or Azure Active Directory (AAD) account that the user is logged into the system with Windows 11.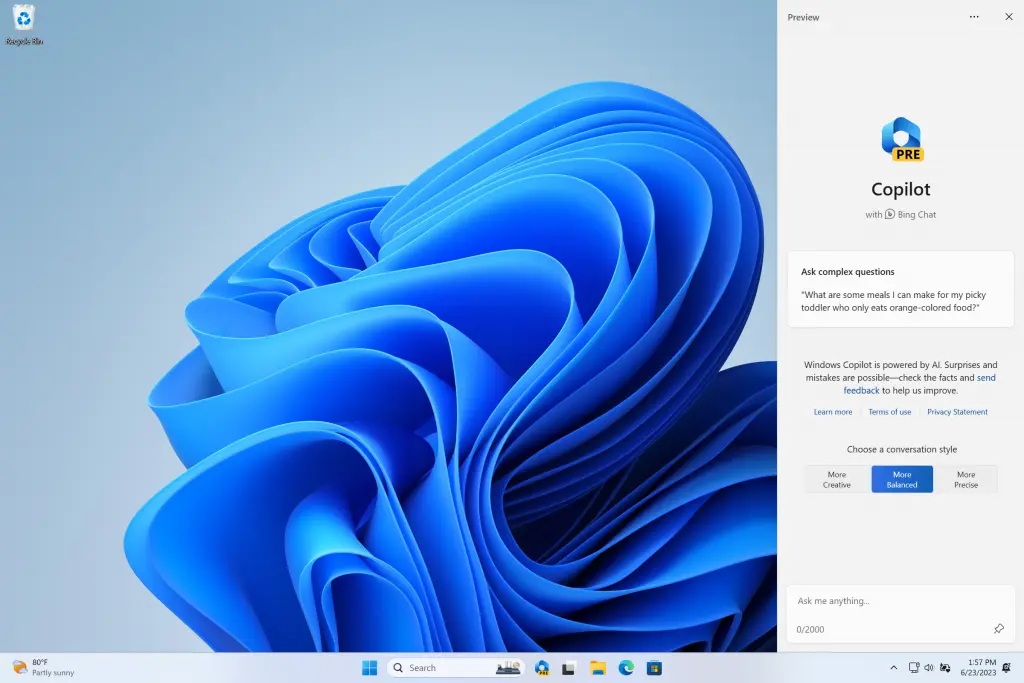 What you can do with help Windows Copilot?
Windows Copilot it is designed to help users interact with the operating system. Through natural language, the user can request the change of some settings of Windows or perform actions in the operating system.
All changes can be made by a simple request to Windows Copilot.
"Change to dark mode."
"Turn on do not disturb."
"Take a screenshot"
"Summarize this website" (Active tab in Microsoft Edge)
"Write a story about a dog who lives on the moon."
"Make me a picture of a serene koi fishpond with lily pads."
As we said at the beginning, this feature is currently only available on PC Windows 11 enrolled in the program Windows 11 Insider Preview / Dev Channel.