People application for GPS navigationDeveloped by NokiaReturns on devices iOS operating systemAfter an absence of 15 months, giving owners of tablets and phones Apple an alternative for application Maps provided by Apple.
HERE Maps for iOS bring most functions for offline browsing, available in version Android, But missing a few extras, such as support venue maps. Being further, a free, Here Maps for iOS offers suggestions on GPS navigation on board the car or using public transportation, suggestions for interesting places to visit and GPS maps for more than 100 countries, all available for offline use.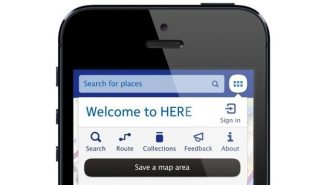 Here Maps navigation application from Nokia will soon return to devices with iOS operating system. This is one of the most popular applications on Windows Tel and will debut on AndroidThanks partnership with Samsung. The plan is that the service here Maps be available on all three mobile platforms by the end of 2015. Nokia Maps were launched first on iOS, but they did not have the desired success. Unfortunately, the application did not agree with the operating system AppleAnd after the release of iOS7, The Finnish company decided to give full support and withdraw the application of App Store. The reason seems to be the incompatibility of new iOS versions with the application.
Sean FernbackSVP Nokia, admitted that the launch of the old versions of the iOS Maps Here was a failure, but wanted to clarify that, now, the company's focus lies exclusively on software, giving his team the opportunity to achieve a reliable product.
What we know for sure is that in 2015 we will see the famous service Here Maps on iOS si AndroidAlongside the variant Windows Tel. Given that tiny market share Windows Tel has worldwide exclusivity of this service platform Microsoft one was not justified, and now divisions Nokia de software si hardware are different entities, there are no contractual obligations that prevent porting services.
Update latest: Nokia Here Maps app returns to iOS