Behold, finally, Apple allows you to test iOS updates before they are available to all users iPhone, iPad si iPod touchEven if you are not a developer or your device is not registered on behalf of a developer. Program Appleseed prerelease testing OS X is now available for iOS. So, anyone who enroll in the program now starting earlier will be able to access a newer version of iOS, which is found currently in testing stage.
The first version of iOS provided under this program is of course iOS 8.3The third update released to developers tonight, is now available for all users enrolled in the new program. To download it, all users need to do is to sign on Apple Seed site cu Apple ID and its associated password, and then wait for Apple to send them update.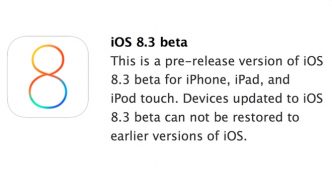 A change which heralded a few minutes before launch, is related to changing the page layout Appleseed. Given that, since last year and until now, the public beta testing program has only been available for OS X (Macs) Made presentations on concerns only the operating system. Now the situation has changed and page Appleseed Multiple refer to iOS, iPhone si iPadMost of it can be found in the section "Frequently Asked Questions". There Apple even describes one way that users can make the transition from prerelease version to publish a new iOS version.
Available in February, iOS 8.3 an update is quite important as it brings users many new features that are sure there are many who wish to test before launch is likely to take place over several months. Until now, iOS 8.3 300 introduced new emoji charactersA new menu for selecting their multiple new languages ​​for SiriCompatibility with two-step verification system of Google, Wi-Fi connectivity CarPlay some updates to Messaging.
Public testing program beta versions of iOS is not new to Apple given that last year's similar version is available exclusively for Poppy. Introduced with launchers OS X 10.9.3 MavericksProgram for public beta Poppy helped launch more stable updates OS X.
It should be noted that this program is currently being launched and might not be available to everyone. Also, do not recommend that you install iOS beta than a iPhone or iPad reserve and not before doing a backup, because of the risk of data loss. Although currently available only iOS 8.3The program will be extended and probably other major versions of iOS including 9 iOS beta.
8.3 iOS, an update to the latest Apple devices