menu Win + X (Also called Power Menu) of Windows 8 si Windows 8.1 is to replace The Start Menu from earlier versions of Windows, Users can get through it fast access the most widely used s tool system: Command Prompt, control Panel, Task Manager, Run, Device Manager, Disk management, Search, Programs and Features etc. Diferenta intre Win+X Menu in Windows 8 si Win+X Menu in Windows 8.1 este ca in Windows 8.1, microsoft added a few options in addition to the menu, namely the Shut down, Restart si Sleep, Thus giving users faster access and operations Close or standby system. But there are plenty of users who use the option Hibernate system and who would like to be able to access it as quickly and folosid option menu Win + X / Power.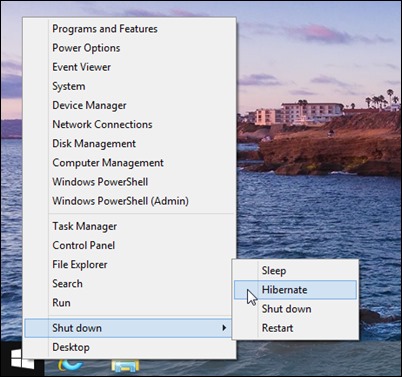 How can we enable Hibernate option in Windows 8.1 Win + X Menu?
open Run (Windows + R) and type powercfg.cplThen give Enter (Also, you can access Power Options directly from the menu Win + X)
in Power Options click on Choose what the power buttons do in the menu on the left
select Change Settings That are currently unavailable
section Shutdown settings, Check Hibernate (Power Show in menu)Then click on Save changes

And ready. Option Hibernate will be displayed from now on in Win + X menu al Windows 8.1.
STEALTH SETTINGS - How to enable Hibernate option in Windows 8.1 Win + X Menu
How can we enable Hibernate option in the Windows menu Win + X 8.1 Preview