When install game last generation or software complex (Gen. Adobe Photoshop CS5), The first question we ask is: "We have sufficient system resources (RAM/CPU/video Card) For games / software? ".
Even if for a game or software we Recommended minimum resourcesDuring play or work unpleasant interruptions may occur due to lack of RAM or CPU. To solve these problems we must optimize operating system (tweaking / Tune up) so that they consume less RAM and CPU resources. This we can do by stopping Manual of services Windows (Windows Services) By elimination of visual effects and programs that launches on startup (Startup).
(Some references: Speed ​​up Windows XP, Speed ​​Up XP: "Cleaning out" StartUp, Speed ​​up Windows Vista, Speed-Up Vista: Disable Automatic Windows Defend Operation, Speed ​​Up Vista: Turn-Off Un-Needed Features, Speed-up your XP - Optimize Display Settings, Disable Automatic Defragmentation (Windows Speed ​​View), How to clean Virtual Memory (pagefile.sys) on each Shutdown [Windows Optimization], Etc ...)
In addition, to obtain maximum performance from our operating system is very important for all drivers to be installed and up-to-date. From network drivers to hard drives, all can affect the performance or performance of the operating system either positively or negatively Windows Vista, Windows XP or Windows 7 .
Game Booster is an application that helps you get the maximum from your PC. It will not put 1 GB of RAM in addition to your own nor does it make a Core Duo an i7, but it is an application with which you can one-click all services (Windows Services) and processes that are not required for the operating system while playing. In addition, Game Booster provides us with information about hardware drivers's Used in games and gives us the possibility to download the application interface, without the need to search Google or the manufacturers websites.
Over time we have used programs System tweaks si Tune Up, but they did not stay much longer than a day installed on my laptop. Most manufacturers of such software put the description of the application into complete phrases that make you think that you have overwhelmed the program that will make your computer a "rocket", but after installation we find that the CPU / RAM processes of the software optimization, consumes more resources than he manages to optimize.
Game Booster has been installed on my PC for almost a month and I was thinking seriously whether or not to do it, a review. Looks like it's worth it. It is a very easy to use application and the results are visible. Game Booster is based on stopping services and applications that are not necessary during a game system. Being able to decide what services we want to keep active makes Game Booster a good one optimization software and for people who are crazy about games.
Download Game Booster Beta v2 1 .
Install Game Booster - After you download the file gb2beta-setup.exe, run and go to the "Next" all the way :)
After you install, before you turn on the game it is advisable to go to the left menu Game Drivers and see what drivers are for provided for your operating system.
Select the driver from the list, then click "Go to download page". You will be taken directly to the manufacturer's drivers download page, where you can download the latest version / update.
In "Game Essentials'S have some tools useful for gamers. Ventrilo - Voice chat TeamSpeak, Xfire si Steam.
With one click on "Download" you can install it all. Or selected by you
Game Defrag - I'm not sure how important this feature optimization, but we know that defragmenting never hurts. He even becomes necessary after a while.
The only defragmentation tool installed on PC games, to speed their load.
System tweaks - In module Top Performance make some registry changes (Windows registry) To increase the download speed, optimize connection on specific ports used by games, speeds up your PC shutdown, tweaks, etc. ...
After you enable Top Performance need to restart your computer.
Game Tools - From here you can set keyboard, mouseThe other controllers for games. In addition, laptopLinks appearing "Adjust Power Settings". Option to help us use energy plan that our laptop achieve maximum performance. Power Options in Windows 7.
Game Booster 2 results on Windows 7 and on Windows XP. * Results are made without running any game or application, besides the "default" in the background. Services and applications from startup. Top Performance - off.
Windows XP - Game mode: OFF
Windows XP - Game mode: ON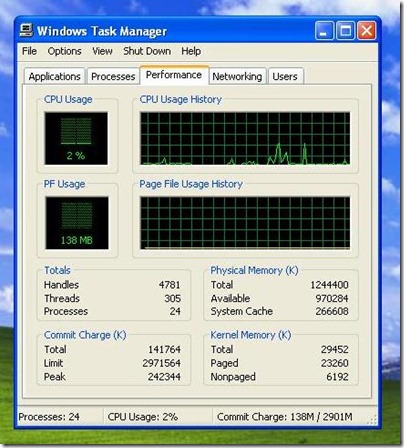 Memory in use: - From 208 RAM dropped to 138 RAM. It's a big enough difference for one Windows XP with 1.2 GB RAM installed.
Nor is Windows 7 results were not worse.
Windows 7 - Game mode: OFF
Windows 7 - Game mode: ON
How Game Booster can help us if we are not gamers 2.
After start Game Booster, at the bottom under "Advice"Is the number of services that can be stopped and"Details"
Click on "Details" and the list of services deselect the ones that are useful in our work.
Then click on "Next" appears list of applications running in the background.
You will need to select the ones that are not useful. By checking the option "Show Current User `s all Processes"We can close all open processes on our user's system.
Game Booster Beta v2 - Free and Total Solution for better gaming experience!
The application has been tested on Windows XP SP2 yes Windows 7 Ultimate (32-bt).
Compatibility: Windows 7, Vista, XP & 2000.
Optimization / Tweak Windows XP, Vista & Windows 7 - Get lower RAM and CPU usage.