launching iOS 7 last month was accompanied not only by a complete change of interface it, but a few New Sites feature pretty interesting, as well as changes si improvements made of existing sites feature (ability applications to run in background or to Auto-Update when the devices are connected to the Internetnew Notification CenterWith design completely changed, and Control CenterCPC accessible both from Home Screen, settings and from applications AirDropThe new Camera App etc.).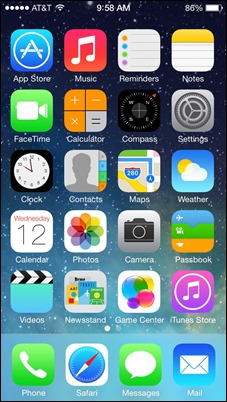 Although completely modified design iOS system 7 has attracted a lot of criticism, are enough users who consider changing welcomed it with other fans even among users mobile operating systems, Such as Android, As evidenced by the popularity Applications launcher si screen locker created by EspierWhich perfectly mimics the home screen and the system iOS 7 locker. For these visitors, Espier also launched two other Android, Espier Notification iOS7 si Espier Control Center iOS7, these being almost identical replicas of Notification Centerand Control Centerof iOS 7.
Careful! As Espier Screen Locker iOS7, Espier Notification iOS7 and Espier Control Center iOS7 are plugins of the Espier Launcher iOS7 application, and first require its installation to work on Android systems.
After installing the application Espier Notification iOS7It must be turned in Espier Hub> Plugins for Launcher to replace status bar si Android System Notifications (To enable Notification Service and other Settings / Customize, access Espier Notification iOS7 Settings).
Also, after installation and activation Espier Control Center iOS7It will be accessed via a small lever shown in the bottom of launcher's (same as in iOS 7). Control Centerit is fully functionalWith buttons WiFi, Airplane mode, bluetooth, Mobile Data si screen orientationA slider that allows display brightness adjustment and shortcuts to Flashlight, Clock, Computer si Camera.
Users who want to display in Control Center si controls for the music player you need to select a widget of the installed once the application or install the plugin Espier Music ControllerWhich includes widgets Espier Lock Screen, Espier Contrtol Center si Task Bar (Free version of the application supports Google Play Music, For other players, it is necessary premium versionThat cost $ 4).
More options Espier Control Center iOS7 (Such as possibility to access Control Centerfrom the lock screen or from applications) Are available in Espier Control Center iOS 7 Settings (All in Plugins for Launcher).
Download Espier iOS7 Notification for Android.
Download Espier Control Center iOS7 for Android.
Download Espier Music Controller for Android.
Note: More information about Espier Launcher for Android Launcer iOS7 available here (Where you will find a link to download it).
STEALTH SETTINGS - Espier brings iOS 7 Notification Center and Control Center to Android OS
Espier brings iOS 7 Notification Center and Control Center on Android systems